Christmas Love Messages
Christmas trees, lights, gifts, candy, snow, and plenty of other beautiful things, have probably entered your life by now! It can only mean one thing, it's Christmas time! But out of everything related to this beautiful occasion, only one thing stands out. The time you get to spend with the people you love the most. It is holidays like these that you get enough time to bond with people and get closer to each other under this holiday's cheerful spirit! And what better of a way to start a holiday like this than to say a few kind words through a wish? But for you to be here, it is safe to assume that you have absolutely no idea how to write a Christmas love wish. But worry not, my friend, because this why we are here for! We've done all the dirty work for you, so you don't have to use the precious time you would have spent away from eating and being with your loved ones, so you can think of a Christmas wish. Here are examples of the most romantic Christmas messages to send to your beloved.
Christmas Love Messages from the Heart
Your love is the best gift I could have asked for! Merry Christmas, sweetheart!
This year I have the best gift ever. I have you in my life! Merry Christmas!
We met, fought, and conquered; we are stronger for all the challenges we faced getting here. May our love grow stronger the more Christmas seasons we spend together.
You are the Christmas present I've wanted all these years. You are perfect just the way you are. Have a beautiful Christmas.
At first, it was you and me against the world. Then the world realized we were meant for each other. So let's celebrate this love by having a great Christmas together.
Christmas comes once a year, but please know that I cherish you every single day, no matter the distance between us.
Christmas is always so special because we spend it together. Merry Christmas, darling!
If Christmas love and happiness were snowflakes, I wish you a blizzard's worth of them this year. Here's to many joyful Christmases to you, my dear.
Christmas is a time for reflecting on the blessings we have received throughout the year. You are my number one blessing since the day we first met.
I'm so blessed to spend Christmas with you! Merry Christmas, my love!
They say happiness cannot be measured in exact terms, and that may be true. It is enough that we have Christmas to remind us that love, joy, and goodwill are the real things that uplift our lives. Thank you for the happiness you bring to me since I met you, my love.
Beyond any other gift I could receive at Christmas, you are the best! Merry Christmas!
I am so grateful for the best gift of all this Christmas – You! Merry Christmas to you, my love.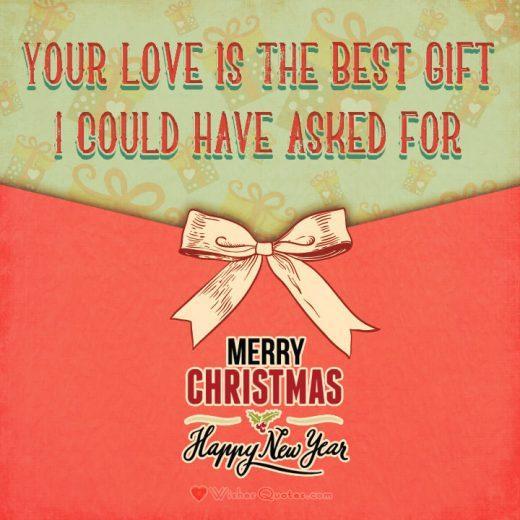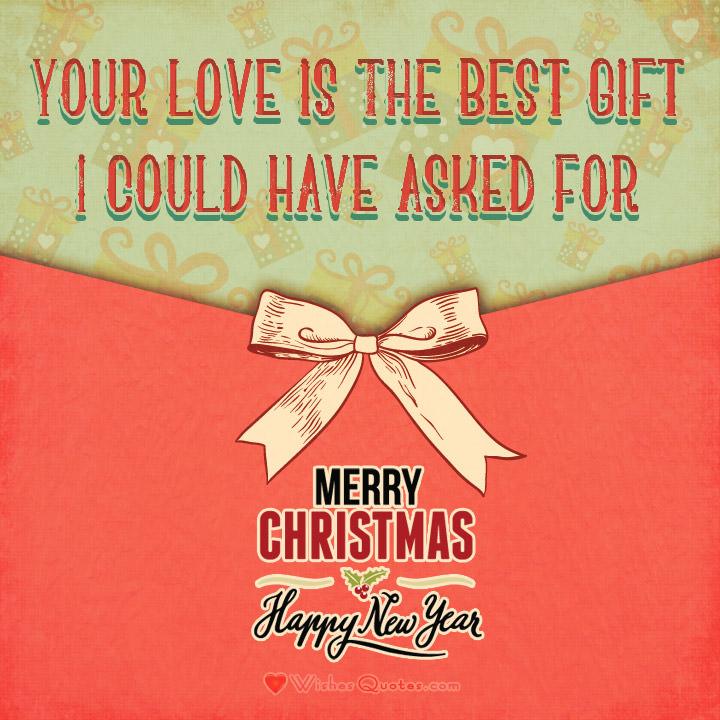 May the magic and festivities warm our hearts and radiate in our lives even after the season wears away. Merry Christmas and Happy New Year, my love!
With you by my side, I could not ask for a better Christmas! Merry Christmas!
Of all Christmases that have gone before, this one will be the best because you are here!
Christmas is the most memorable time of year, made even more special because I get to spend it with you!
Merry Christmas to the one who makes my heart sing and my spirit shine!
No Christmas gift is greater than the gift of love. Thank you for giving the best gift ever!
This Christmas, I want to take the time to tell you how much you mean to me. I feel so blessed with you!
May all your joyful Christmas dreams come true, my beloved! I love you!
I cannot imagine a Christmas without your loving presence. Merry Christmas, my darling!
Cute and Romantic Christmas Images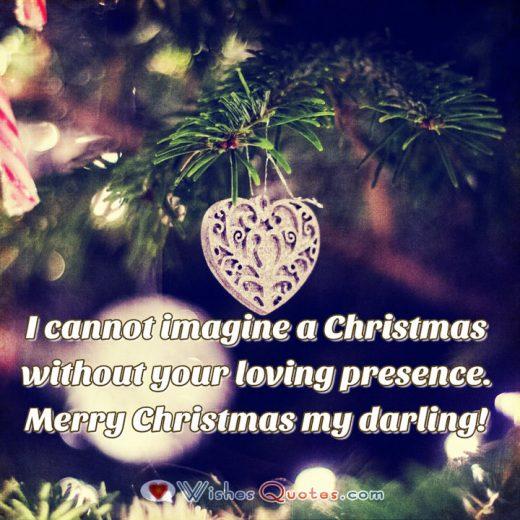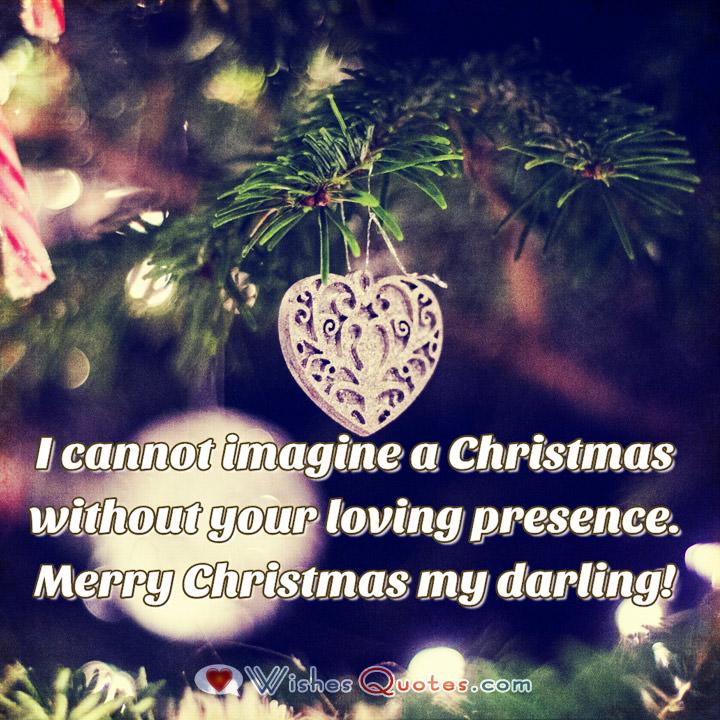 Sweet Christmas Love Messages
Christmas is a time for celebrating with friends, family, and other loved ones. For many of us, this is the most special holiday of the year, and we strive to make Christmas memories that will be cherished for years to come. Sending warm greetings is a big part of this. Naturally, one person who should be on your greetings list is your spouse, boyfriend, or girlfriend. Your message to them should come from the heart, whether you are sending your greeting via traditional card or the internet.
You have been there for me through life's joys and troubles. Merry Christmas to my soul mate!
Our love is a treasure that no gift beneath the tree can match in worth. Thank you, and Merry Christmas, my dear.
You make the stars shine brighter and the winter days warmer by being in my life. Merry Christmas!
Christmas is for spending time with those we love most. I am so glad to spend it with you!
So thankful am I for having a boyfriend like you. Wishing you blessings for the holidays and the coming year.
If I could only ask for one gift this Christmas, it would be our beautiful relationship! Merry Christmas!
I look so forward to Christmas together. Merry Christmas, sweetheart!
If I could package my love for you and wrap it in ribbon, I would. Merry Christmas, my dear!
Christmas is so beautiful with you here. Let us carry this beauty all year long!
Although you are across the miles this Christmas, know that my love for you is stronger than ever!
Distance cannot change our true love. You are in my heart and spirit this Christmas and always.
Merry Christmas to the one who makes every day merrier and brighter!
Christmas is so much more magical when I am with you. Merry Christmas to my treasured one!
I wish you so many blessings this Christmas! I give you all my love from the deepest place in my heart!
We don't need to meet under the mistletoe to show our love, but let's do it anyway! Merry Christmas!
Merry Christmas to the one I love so very much. Words can never describe how grateful I am for you.
My love, you bring me so much joy. I wish you the best Christmas ever this year!
Each day of my life is like a joyful Christmas morning with you by my side. Merry Christmas!
All About Christmas