Christmas Love Messages for Girlfriend
Suppose you're a guy who's blessed to have an amazing girlfriend in your life. In that case, there couldn't be any better time than the holidays to let her know that you consider her love to be one of the best gifts you've ever received. Whether you're able to spoil her with all the glamorous gifts her heart desires or whether you're low on monetary resources this year, she'll be especially touched when you take the time to express your words of affection toward her this holiday season. Sometimes it can be challenging to find just the right words to express your feelings and tell your special someone how much they really mean to you. So find yourself wondering how to let your girlfriend know she means the world to you this Christmas. These personalized Christmas messages could be just what you've been hoping to find.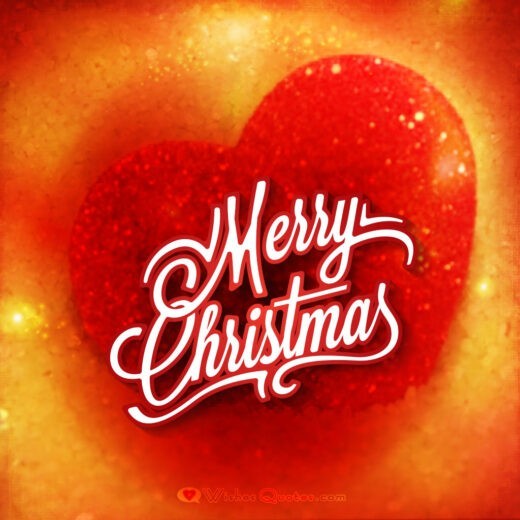 Sentimental Christmas Messages for Your Girlfriend
When I'm with you, I feel warm from head to toe no matter how cold it is outside. Thanks for lighting a fire inside of my heart this Christmas season.
You're the angel on top of my Christmas tree, baby. Thanks for being such an amazing girlfriend. I love you!
Though the snow is cold, my heart is on fire when I think about the love we share—Merry Christmas to my incredible girlfriend.
Though we've only been dating for a short time, I couldn't feel more about the direction our relationship is going. I'm hoping that this Christmas will be the first of many we'll spend together.
This Christmas, I'm giving my heart to you. Thanks for being my soul mate. I love you more than I can express.
This year, I got my Christmas present early. It was the day I met you. So now, all I can do is repay the happiness I have received by making sure that this Christmas, you are the happiest woman in the world. I love you.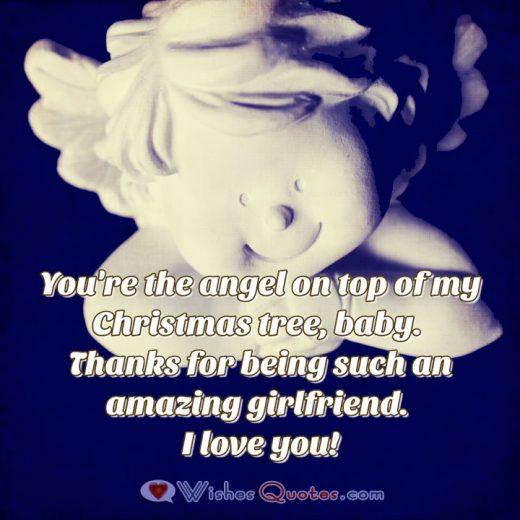 One of the best reasons I have to celebrate this season is the way that you care and the love that we share. Merry Christmas, Baby!
Getting to know and love you is one of the greatest gifts I could ever receive. When we're together, it's like the magic of Christmas every day of the year. Merry Christmas to the woman I love.
Each time I hold your hand, it feels like Christmas morning. I'm so excited to be able to share the holidays with you. I love you.
Christmas is a time for thinking about the things that matter most to us in life. That's why Christmas is the perfect time for me to think about you and the love we share together.
I'm ready to open the presents underneath the tree.
I'm ready to gather with friends and family.
But, most of all, I'm ready for extra time for you and me!
Merry Christmas, Baby!
'm amazed at how blessed I am to be with someone like you. You make everything about this Christmas so much more magical.
Rather than battle the crowds of Christmas shoppers at the mall hunting for gifts, I'm ready to just go on a mistletoe hunt with you. Merry Christmas, babe!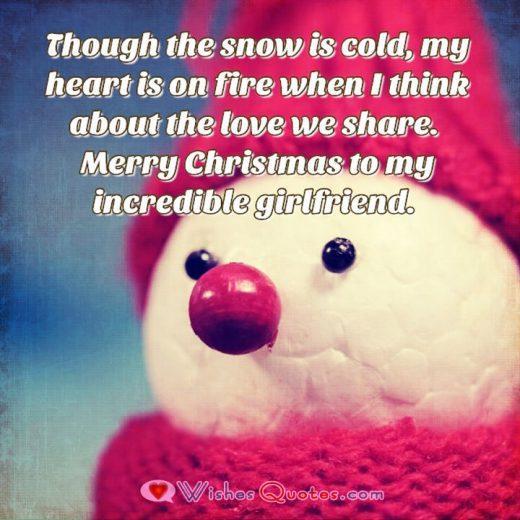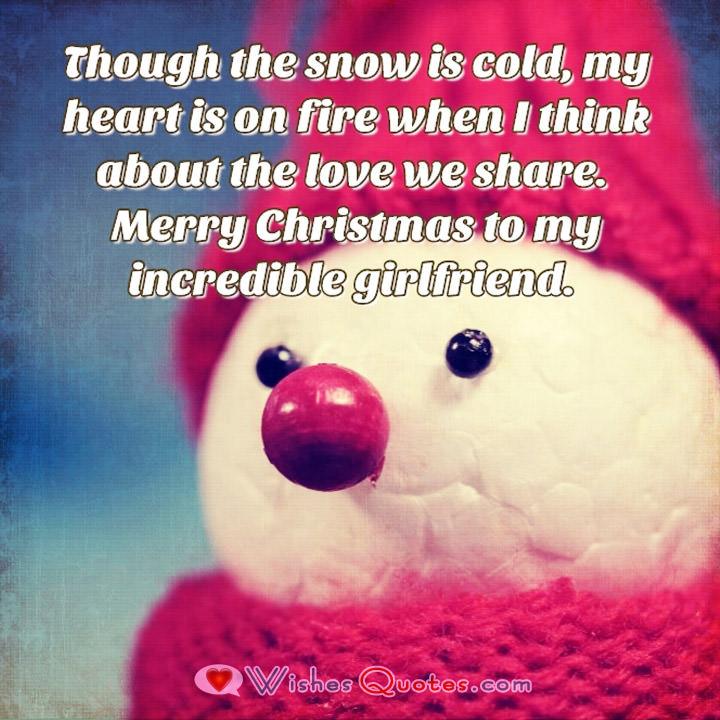 How do you say Merry Christmas to the Girl you Like?
I've never felt this way about any woman before in my life. That's why this Christmas I want you to know our love is the gift I'm really excited about enjoying.
Christmas is about love and laughter with those we care about most. Who else would I rather spend this magical time of year with than you? Love you, Baby.
Your kisses are sweeter than Christmas cookies, and you're more beautiful than the star on top of the tree. Merry Christmas to my beautiful Angel.
Ever since I met you, life has become an exciting adventure. I can't wait to share our first Christmas together.
You don't need to buy me anything for Christmas, baby. Your love is more than I deserve and the best gift I could hope to receive.
I consider your love a rare treasure. This Christmas, you've filled my life with pleasure. Merry Christmas, Sweetheart!
I really don't care about getting expensive gifts or making lots of plans. My ideal Christmas is just spending extra time alone with you. I love you, babe.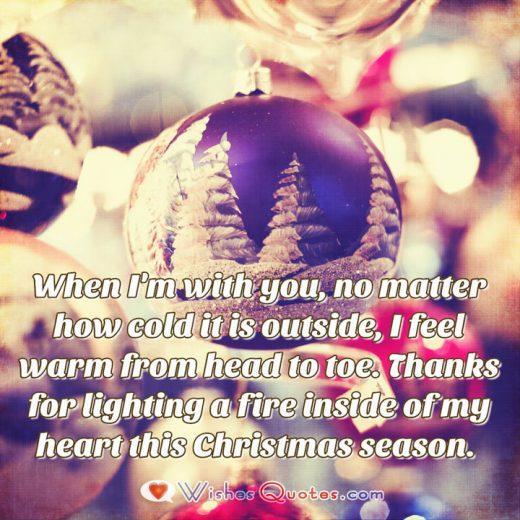 L is for light you bring to my life.
O is for our undying affection.
V is for Variety that spices up our relationship.
E is for Endless possibilities we can enjoy together.
Thanks for your LOVE this Christmas.
I love you at Christmas and all the year through.
Thanks for all you are and all that you do.
Merry Christmas, Sweetheart
I've enjoyed spending even the slightest second with you so far. So in this holiday dedicated to spending a lot of time with the people you love the most, I am certain that it will be one of the best days of our life.
All About Christmas