Merry Christmas Wishes for Friends and Family
Once again, the season of merriment, reunions, sharing, and caring is upon us. But, sometimes, a heartfelt message of love and support is the best Christmas gift you can give someone needing acknowledgment of their achievements and acceptance. It is so easy to get lost in the fuzzy sweaters, glittering gifts, and excesses of Christmas celebrations, forgetting that the season is all about spreading love among family and dear friends. Letting others know you care sends a sincere message of good cheer. Reach out to someone you've neglected all year through traditional greeting cards, email, or any social media platform. Tell them they can count on you for support and that you're never too far away.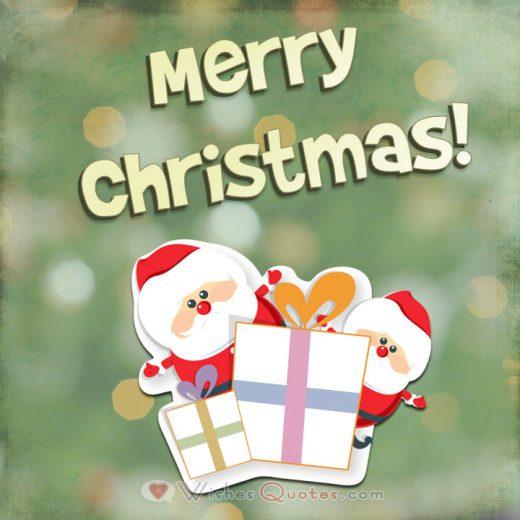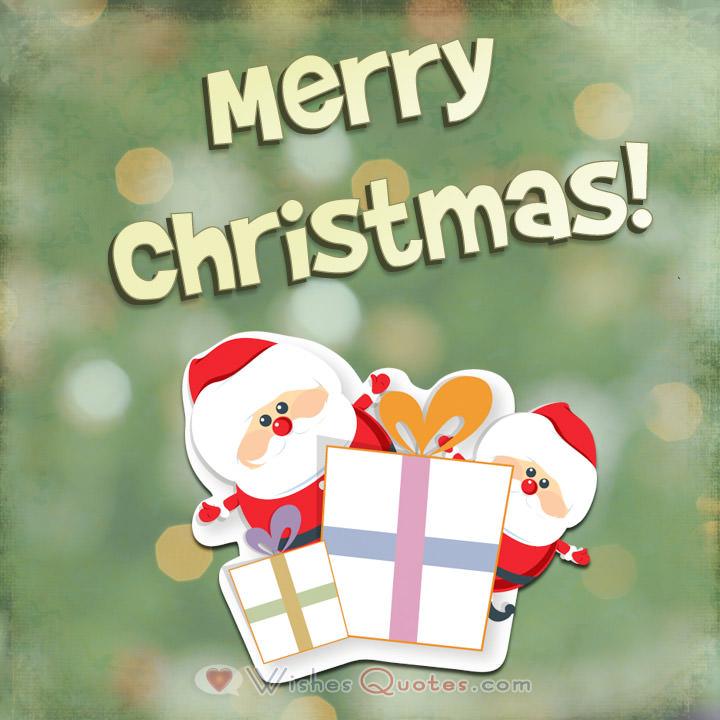 Sweet Christmas Messages for Friends
Merry Christmas from an absentee friend who thinks of you every day. You are always in my thoughts.
Like a fine wine, good friends get better with age. Merry Christmas to you and yours.
May the light of the holiday season light your path every day and always. Happy Holidays!
Merry Christmas to my favorite people. May the season bring you joy and lots of fudge.
The season of love is for remembering friends who inspire us to become better versions of ourselves. You are an inspiration to me. Merry Christmas!
Here's hoping that your Christmas will be full of light and love and your new year be marked with hope and promise.
Happy Holidays! Here's to more loving, hugging, sharing jokes and recipes for everything under the sun.
It's Christmas. Keep calm and rock the Christmas spirit any way you want.
Celebrate the season! May you have an abundance of love, joy, and hope today and always.
You are one of a kind. I am grateful for all your support throughout the years. Merry Christmas, my dearest friend.
Share the joy; spread the love. It's Christmas. May the best of the season be with you and yours.
Wishing you peace and joy at Christmas and always because you give so much of yourself to others.
Here comes Santa! I hope he brings you joy and everything else that your heart desires.
It has been a busy year. Although it may seem like I've forgotten you, know that you are in my thoughts this Christmas and always.
What should I Write in a Christmas Card to a Friend?
Sometimes, we take the good things in life for granted just because they always seem to be available. I apologize for not doing more, and I promise to make up for it. Let's start with a little catch-up coffee this Christmas.
Merry Christmas to the merriest person on the whole planet. You never fail to cheer me up.
Christmas is a time for remembering all the people we hold dear. You are always in my heart no matter the oceans between us.
Thank you for being the sweet person that you are. Merry Christmas and Happy New Year, too.
Friends are among life's greatest gifts. Thank you for being mine. Wishing you the best of the Christmas season.
Once again, it's the season of Christmas lights, joyful music, and good food, but the best part is sharing the good times with people we love. Merry Christmas to you.
I always know who to turn in good times and in bad, and you always come through. You are a gift that keeps on giving. Merry Christmas.
The holiday season brings out the best in all folks. As for you, you seem to be at your best regardless of the season. I am blessed to be in your circle.
May the blessings of the season be all yours this Christmas because you deserve it.
May you have everything that you hope for this season and every day for the rest of your life. Merry Christmas.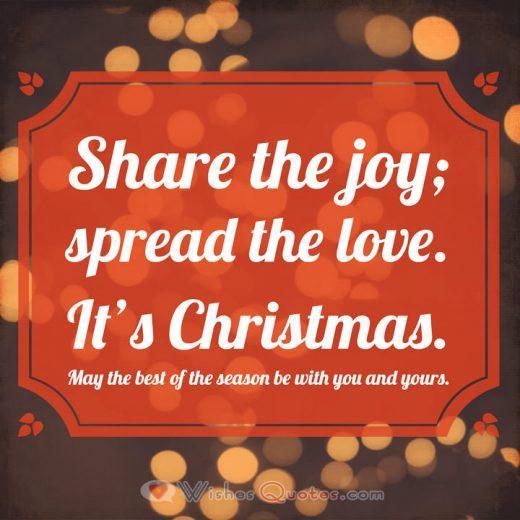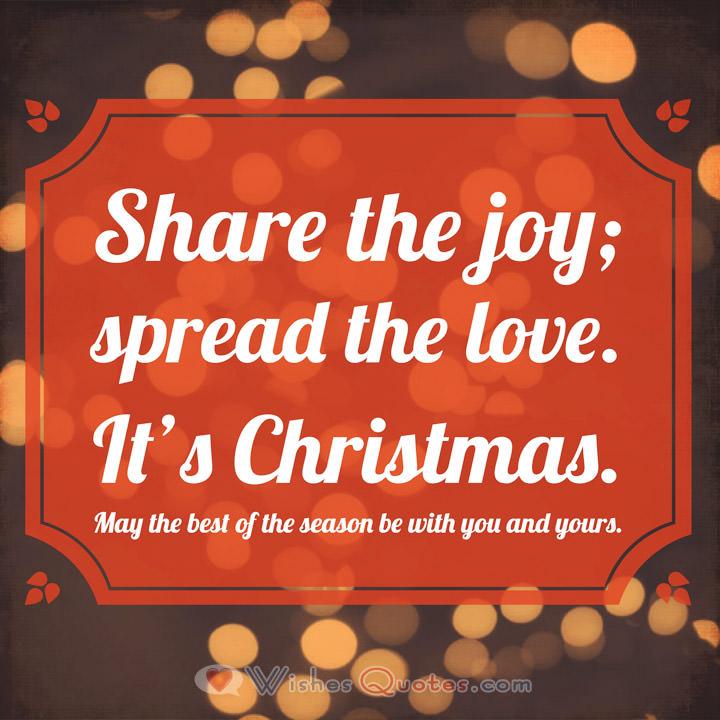 Lovely Christmas Messages for Family
We are bound by blood and name, and I am so proud of that. Wishing you all the love and blessings this Christmas.
You have never failed me, even on my worst days. So please know that I appreciate your blessing to me this Christmas and every day. Merry Christmas.
I am so lucky to be in the company of angels every single day. You guys inspire me, guide me and lift me up. Thank you for all you do, and Merry Christmas.
Merry Christmas, you good people. I am so glad to be part of this family.
You taught me about good and naughty and nice. So here's me being all those: Merry Christmas, everyone!
Merry Christmas! May you have all the eggnog, apple pie, and gingerbread cookies that your heart desires.
It's wonderful to be part of a group that always has your back, no matter what. I don't give you much choice, do I? Merry Christmas to one and all.
May all that is good, joyous, and uplifting be yours this holiday season. Have a Merry Christmas!
Christmas is a time to gather and be home with loved ones. So even if we're apart this year, I am celebrating with you in spirit.
It's a wonderful time to be alive when you're surrounded by love from people who genuinely care about you—Merry Christmas to the folks who love me, warts and all.
Warm wishes to you and yours this Christmas. May it bring you peace in a year that has been full of challenges—much love to you.
Merry Christmas to the folks who have given me the best Christmas memories. I am fortunate to be part of your family.
What do you Write in a Family Christmas Card?
Christmas is all about family. It is a time for making up for the chaos we bring into each other's lives. It is a time for rekindling that feeling of love we have for each other because we are family—Merry Christmas to you all.
You deserve the best this Christmas for everything you have to put up with from all of us all year. So wish you a cheerful Christmas and all the love.
Merriest of the season and a jolly good time to a happy old soul. Merry Christmas!
Feliz Navidad! Joyeux Noel! Fröhliche Weihnachten! I could say it ten different ways, but it all means the same – Merry Christmas; I love you, my dear family.
You are the reason for my season. May this Christmas bring you all that your heart desires. Merry Christmas.
What I appreciate most about Christmas is the time to slow down and kick back with the people who matter most to me. Merry Christmas to us all!
May all the goodness in the world cheer you up this season. You've certainly done your part and more to make this world a better place. Merry Christmas to a beautiful group of humans. So proud to be counted as one of you.
Christmas Images for the Season of Sharing and Caring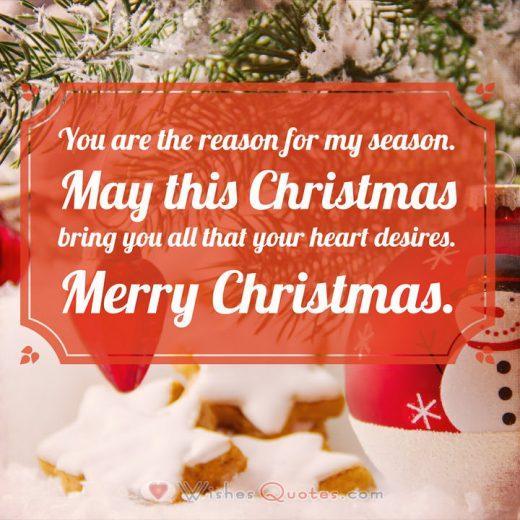 All About Christmas