50 Romantic Quotes You Should Share With Your Love
There have been a great number of love songs written over the years. Poets have been creatively expressing love for centuries through poetry, and famous authors continue to fill book store shelves with new romantic stories regularly. The powerful emotion called love is what makes the world go around and the heart sing. It can cause great despair if lost, and its value is unmeasured. If you are fortunate enough to feel romantic love for someone, you should not hesitate to let that person know it. One enchanting way to show this person how you feel is to write a romantic message on a sheet of decorative note paper. After you turn your feelings into words, leave your message next to your love's pillow before you leave for work in the morning so that it will be the first thing seen upon awakening. You can also write your message in an attractive looking card. Since finding the right words to use when expressing your emotions can be daunting, read through the following 50 extremely romantic quotes to see which one sounds best.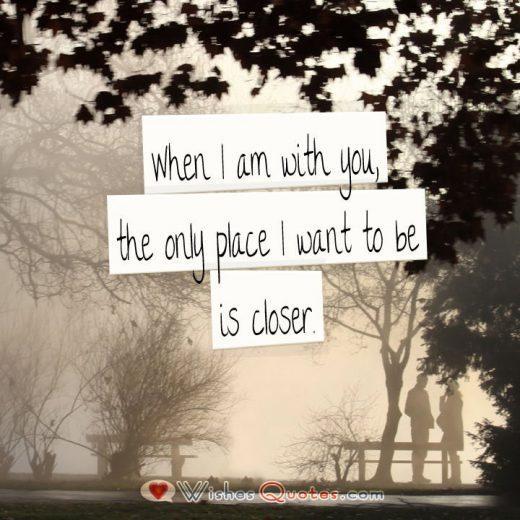 When we first met my heart skipped a beat. Since that night, it never missed a day of loving you.
The minute I laid my eyes on you, the love I felt intoxicated me. I haven't been sober since, nor do I care to be.
Love me and the world is mine.
You're oxygen and I am dying to breathe.
When I am with you, the only place I want to be is closer.
When first I gazed into your eyes was when my heart did realize, my love for you would be alive for years and years to come.
Your love makes me feel like a kid in a candy store, and like a child, I can't get enough of its sweetness.
Real men don't love the most beautiful girl in the world, they love the girl who can make their world the most beautiful.
I often think that my love for you couldn't be any stronger, and when I do, my heart always proves me wrong by showing me it can.
If the love I feel for you had a monetary value, I would be the richest man in the world, and you would be the richest woman.
Dear tummy. Sorry about the butterflies. It's not my fault. I swear. It's his.
I love you for all that you are, all that you have been and all you're yet to be.
I want to become your last call of the night and your first thought of the morning.
When you kissed me with love in your heart, you owned my soul.
When you see a falling star to night, make a wish, it will come true because I wished and I found you.
Love is a precious gift that brings happiness to both the giver and the receiver, so take my love and smile with me for all the days of our lives.
When we first met you took my breath away. Now, after being with you for all this time, I feel I couldn't breathe without you.
You brighten all my days, and you put the sizzle in my nights. My world is a paradise with you in it.
There are only two times that I want to be with you… Now and Forever.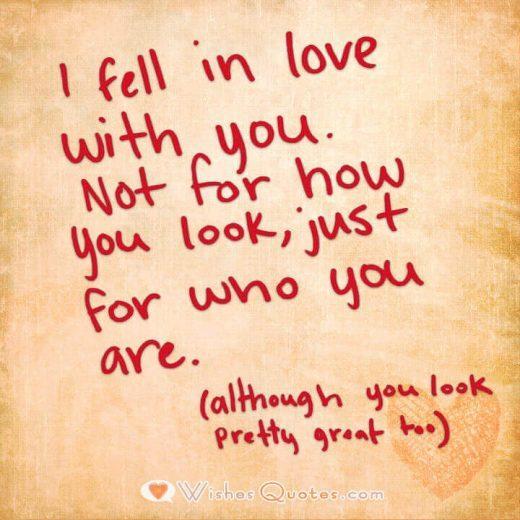 Distance means so little when someone means so much.
I actually fell for you before I ever realized I did.
 I'm soooo lucky to have you.
I fell in love with you. Not for how you look, just for who you are. (although you look pretty great too)
When you realize you want to spend the rest of your life with somebody, you want the rest of your life to start as soon as possible.
How wonderful being in love with you feels. My heart knows it and so does my soul. I hope you know it too.
You always remind me that dreams do come true when I wake up and see you lying next to me.
Because you are there, home is where I want to be. Your love and kisses are so much warmer than heating boards in an empty house.
Let's cuddle till we close our eyes and dream of each other.
Something in the way you move makes me feel like I can't live without you.
The way you say my name is different from the way anyone else says it, I know this is love.
I'll hold you in my heart, till I can hold you in my arms.
When you see him and you just can't stop smiling, you know that you're in love.
I want to sit in the middle of a sofa with you even if there is plenty of room at both sides.
Someday when the pages of my life end, I know that you will be one of its most beautiful chapters.
I doubt that I could ever love anyone as much as I love you. Considering how perfect you are for me, I find that it's no wonder.
If you do me wrong, I will forgive you because love understands. Some of the longest and strongest relationships are so because someone in the relationship said, "I forgive you."
Because I love you and because you love me I spend less time fretting over not having money and more time thanking God that I have you.
I cherish the love the two of us share. It's as vital to me as is breathing the air. It's a gift to be handled with the greatest of care.
 Love isn't planned, and sometimes it happens when you least expect it. Falling in love with you was the best surprise of my life.
When love is not madness, it is not love.
One of the most magical moments happens when two bodies unite, two hearts beat against each other, and the world ceases to exist in the moment of passion.
True love tames the restless heart and replaces casual sex with making love to someone you want to spend the rest of your life with.
If I had the slightest thought of marriage, I'd light the candles and cook you dinner. Can you come over at 8:00?
The heart filled with love speaks clearly to the heart that listens. Mine heard yours from across the room.
I love you so very much, the only fear I have in life is losing you, the biggest part of my life.
Falling in love with you is half of the greatest feeling in the world. You falling in love with me is the other half.
To fall in love with you or run the other way was never a choice. Falling in love with you was destiny.
When I'm with you, I feel like I'm in a rose garden surrounded by beauty. And when I kiss your lips, I feel like I'm in heaven.