The Ultimate List of Amazing and All-Time Favorite Love Quotes
What is Love?
Exactly what is love? Can an emotion be summed up in a few words? It appears as if people from all walks of life have been trying to answer these questions since the beginning of time. For example, Plato attempted to define love in general via the Symposium in 360 B.C. while singer Pink shared her views on romantic love through the lyrics of her song "True Love" in 2013. With the following 200 all-time favorite love quotes from famous books, movies and celebrities we try to explain what love is. Some answers are humorous whereas others have a more serious tone.
Talk About Love with These Famous Love Quotes
"Love is a fire. But whether it is going to warm your hearth or burn down your house, you can never tell." – Joan Crawford. Hollywood icon Joan Crawford, who was depicted as a "troubled soul" in the 1981 biopic Mommy Dearest, spoke of the complexity and power of love during an interview in 1954. It is worth noting that the late actress may have been referring to one or more of her romantic relationships, platonic friendships or both when she shared her views on the topic. In either case, by suggesting that love's influence on people is unpredictable, Ms. Crawford seemed to regard love as a gamble that people choose to take on others.
"Once in a while, right in the middle of an ordinary life, love gives us a fairy tale." Putting one foot in front of the other becomes the comfortable rut in which we find ourselves. Without a plan to do so, we have become complacent, mundane. We're so busy putting out small fires that demand immediate attention that we lose sight of goals and possibilities. Suddenly fate intervenes and the love of our life joins the treadmill we're on. At once we feel a stirring of our old dreams and aspirations. Fantasies of a bright, exciting future (that we've long ago lost sight of) reappear and we feel the thrill of the future as only being in love can provide.
"A heart that loves is always young." – Greek Proverb. When we think of youth and childhood, specific attributes come to mind. Fun-loving, adventurous, trusting, wonderment and carefree are just a few of those descriptions. Why then, when we age, do we lose the intensity of these wonderful states? Perhaps we've fallen, been disappointed or hurt. Our hearts bear old scars that have made us more resilient, while also making us harder. Falling in love softens those calloused feelings, allowing us to become childlike again. We laugh, we trust, we become fully present in each moment our lives.
Don't settle for a relationship that won't let you be yourself. – Oprah Winfrey. What makes me — ME? As we mature, we become more and more certain of those answers. There are elements of ourselves, both good and bad, that we embrace as points of our unique character and personality. In order to love someone else, we must make ourselves somewhat vulnerable or we do not experience love fully. In doing so, we must be aware that becoming flexible toward another person's needs does not necessitate the relinquishing of the things that define us. If someone truly loves us, they do not want that to happen to us either. Love means wishing the very best for our partner which is what attracted us to them in the first place.
"When something is missing in your life, it usually turns out to be someone." – Robert Brault. We like to think we are "complete" and feel good about ourselves, striving to be secure and happy even when we're alone. But, sometimes we get this inexplicable feeling that something is missing. In our careers we often operate in a "team" environment, sharing the work load. In our personal lives, when we feel there's some kind of void, we may be feeling the unanswered need for a teammate. This is someone to confer and plan with, someone who understands and approves of our methods — in short, we are missing a "partner." A partner is that one person who is ALWAYS on our side.
"Love is of all passions the strongest, for it attacks simultaneously the head, the heart and the senses." – Lao Tzu. Through his writings or teachings, noted philosopher, poet and purported founder of Taoism Lao Tzu seemed to take an ethical or spiritual approach to deciphering the mystery of love.  There are three "jewels" or "treasures" in Taoism: compassion, simplicity or moderation and humility; and in the Tao Te Ching, which has alternative spellings that include Daodejing and Dao De Jing, Lao Tzu discusses all three, in addition to the power of love, by suggesting that the overall impact of love is felt more intensely than any other emotion or passion.
"Without a single thought, two hands collide and the world finally makes sense again." – Kayla Dawn. When left to our own devices, we sometimes have a tendancy to spin wildly in various directions. We are the only person upon whom these actions have an effect, so why not? Then, out of nowhere, we gain the support, wisdom and varied perspective of someone we love and respect. We have fallen in love. The outcomes of our actions suddenly matter and we consider other people in our decisions. We begin acting as a part of a larger whole, and puzzle pieces suddenly fall into place. We no longer struggle for answers to unasked questions.
"Love is the only sane and satisfactory answer to the problem of human existence." – Erich Fromm. In his book, the Art of Loving, famed German philosopher, psychologist and sociologist Erich Fromm asserted that love is a learned trait; and in a world that he described as "production-centered" and "commodity-greedy," Mr. Fromm further asserted that there are some people who choose to use love as a buffer against the harsh realities of life rather than succumb to them.Based on his aforementioned theory, it appears that Mr. Fromm felt that individuals who are against ego-centrism and materialism can, and do, try to affect positive change via love.
"Even when love isn't enough…somehow it is." – Stephen King. Legendary author Stephen King is famous for his best-selling, science fiction, suspense and horror stories, so hearing him discuss the subject of love may seem more than a little unusual to those individuals who are familiar with his work; nevertheless, Mr. King's takes a turn toward the sensitive by suggesting that love is plentiful.  As such, during those times when people may feel that they are lacking something tangible or intangible, love has a way of being just the right size or to fill those particular voids in their lives.
"Happiness is the china shop, love is the bull." – H.L. Mencken. Satirist and critic H.L. Mencken, also referred to as "the Sage of Baltimore," was known for his one-liners, especially when he expounded on the subject of romantic love. By equating happiness with something as delicate as tableware and love as something as strong and destructive as a large animal, Mr. Mencken was suggesting that love is an extremely powerful emotion that can have a welcomed or unwelcomed effect on the involved parties. It is unknown whether Mr. Mencken was speaking in jest or reflecting on the loss of his wife.
"Love is an act of endless forgiveness, a tender look which becomes a habit." – Peter Ustinov. Actor, author, filmmaker and one-time UNICEF Goodwill Ambassador Peter Ustinov's definition of love suggests that it is an emotion that can be subtle, involuntary and unconditional all at once. Whether or not Mr. Ustinov was specifically referring to one or all three of his marriages at the time he was discussing the subject of love is uncertain; however, it can be argued that his description of love can be used to describe both romantic and platonic relationships because he equated love with compassion and affection through his choice of words.
"I have found that to love and be loved is the most empowering and exhilarating of all human emotions." – Jane Goodall. Dame Jane Goodall has worn many hats throughout her noteworthy life. She is, among other things, an expert primatologist, ethologist and anthropologist. Her decades-long work with and love of wild chimpanzees has been well-documented and could very well be why she chose to define love the way she did. By asserting that a person is strengthened or renewed through giving and receiving love, Ms. Goodall seems to echo the sentiments of Lao Tzu and, arguably, those of Joan Crawford, Stephen King, H.L. Mencken, Peter Ustinov and Erich Fromm as well. As evidenced by each of the aforementioned comments, different words can be used to define love, but the impact and importance of love seems to be universal.
Love is just a word until someone comes along and gives it meaning. – Paulo Coelho
All-Time Favorite Love Quotes
A pair of powerful spectacles has sometimes sufficed to cure a person in love. – By Friedrich Nietzsche
A part of kindness consists in loving people more than they deserve. – By Joseph Joubert
A very small degree of hope is sufficient to cause the birth of love. – By Stendhal
A woman knows the face of the man she loves as a sailor knows the open sea. – By Honore de Balzac
Absence – that common cure of love. – By Lord Byron
Absence sharpens love, presence strengthens it. – By Thomas Fuller
Affection is responsible for nine-tenths of whatever solid and durable happiness there is in our lives. – By C. S. Lewis
All love shifts and changes. I don't know if you can be wholeheartedly in love all the time. – By Julie Andrews
All mankind love a lover. – By Ralph Waldo Emerson
All my life, my heart has yearned for a thing I cannot name. – By Andre Breton
As soon go kindle fire with snow, as seek to quench the fire of love with words. – By William Shakespeare
At the touch of love everyone becomes a poet. – By Plato
Before I met my husband, I'd never fallen in love. I'd stepped in it a few times. – By Rita Rudner
Being deeply loved by someone gives you strength, while loving someone deeply gives you courage. – By Lao Tzu
Better to have loved and lost, than to have never loved at all. – By St. Augustine
Blessed is the influence of one true, loving human soul on another. – By George Eliot
Blushing is the color of virtue. – By Diogenes
Can miles truly separate you from friends… If you want to be with someone you love, aren't you already there? – Richard Bach
Come live in my heart, and pay no rent. – By Samuel Lover
Death is a challenge. It tells us not to waste time… It tells us to tell each other right now that we love each other. – By Leo F. Buscaglia
Do all things with love. – By Og Mandino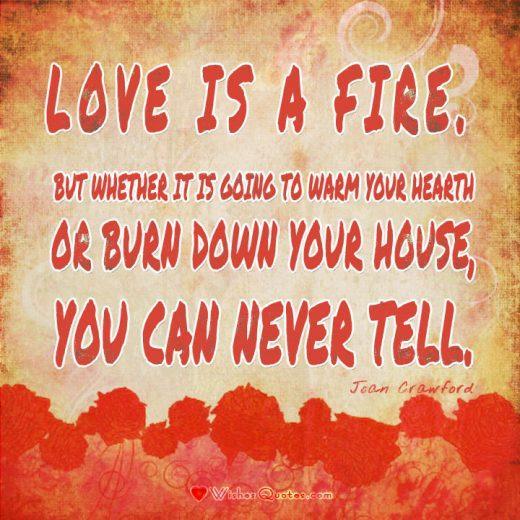 Don't brood. Get on with living and loving. You don't have forever. – By Leo Buscaglia
Everything is clearer when you're in love. – By John Lennon
Faith makes all things possible… love makes all things easy. – By Dwight L. Moody
First love is only a little foolishness and a lot of curiosity. – By George Bernard Shaw
For it was not into my ear you whispered, but into my heart. It was not my lips you kissed, but my soul. – By Judy Garland
For small creatures such as we the vastness is bearable only through love. – By Carl Sagan
For you see, each day I love you more. Today more than yesterday and less than tomorrow. – By Rosemonde Gerard
Fortune and love favor the brave. – By Ovid
Friends can help each other. A true friend is someone who lets you have total freedom to be yourself – and especially to feel. Or, not feel. Whatever you happen to be feeling at the moment is fine with them. That's what real love amounts to – letting a person be what he really is. – By Jim Morrison
Friendship often ends in love; but love in friendship – never. – By Charles Caleb Colton
Gravitation cannot be held responsible for people falling in love. – By Albert Einstein
Gravitation is not responsible for people falling in love. – By Albert Einstein
Hatred paralyzes life; love releases it. Hatred confuses life; love harmonizes it. Hatred darkens life; love illuminates it. – By Martin Luther King, Jr.
He that falls in love with himself will have no rivals. – By Benjamin Franklin
How absurd and delicious it is to be in love with somebody younger than yourself. Everybody should try it. – By Barbara Pym
I believe in the compelling power of love. I do not understand it. I believe it to be the most fragrant blossom of all this thorny existence. – By Theodore Dreiser
I can live without money, but I cannot live without love. – By Judy Garland
I have decided to stick with love. Hate is too great a burden to bear. – By Martin Luther King, Jr.
I have found the paradox, that if you love until it hurts, there can be no more hurt, only more love. – By Mother Teresa
I like not only to be loved, but also to be told I am loved. George Eliot
I love that feeling of being in love, the effect of having butterflies when you wake up in the morning. That is special. – By Jennifer Aniston
I love you, not only for what you are, but for what I am when I am with you. – By Elizabeth Barrett Browning
I never knew how to worship until I knew how to love. – By Henry Ward Beecher
I was about half in love with her by the time we sat down. That's the thing about girls. Every time they do something pretty… you fall half in love with them, and then you never know where the hell you are. – By J. D. Salinger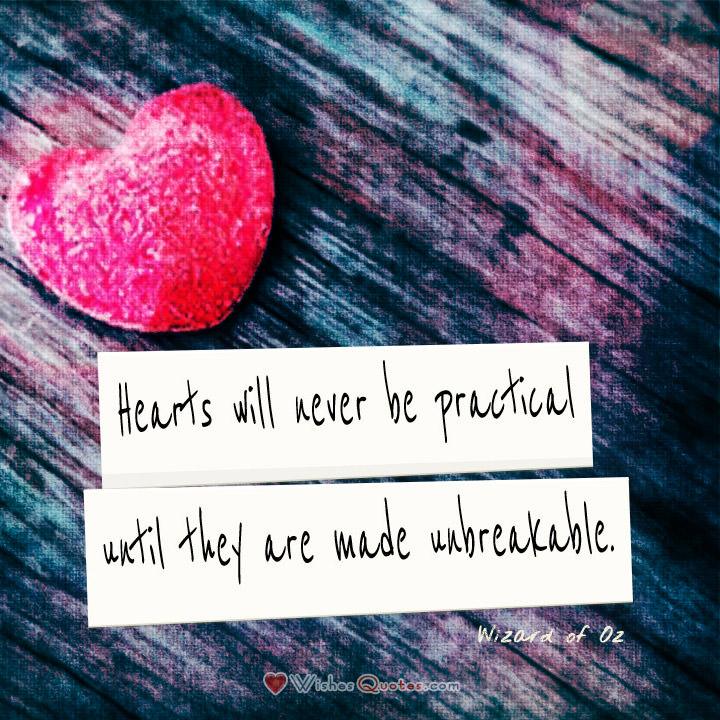 I was born with an enormous need for affection, and a terrible need to give it. – By Audrey Hepburn
I would rather have eyes that cannot see; ears that cannot hear; lips that cannot speak, than a heart that cannot love. – By Robert Tizon
If you live to be a hundred, I want to live to be a hundred minus one day so I never have to live without you. – By A. A. Milne
If you press me to say why I loved him, I can say no more than because he was he, and I was I. – By Michel de Montaigne
If you want to be loved, be lovable. – By Ovid
If you wish to be loved, show more of your faults than your virtues. – By Edward G. Bulwer-Lytton
Immature love says: 'I love you because I need you.' Mature love says 'I need you because I love you.' – Erich Fromm
In dreams and in love there are no impossibilities. – By Janos Arany
It is difficult to know at what moment love begins; it is less difficult to know that it has begun. – By Henry Wadsworth Longfellow
It is sad not to love, but it is much sadder not to be able to love. – By Miguel de Unamuno
It's often just enough to be with someone. I don't need to touch them. Not even talk. A feeling passes between you both. You're not alone. Marilyn Monroe
It's useless to hold a person to anything he says while he's in love, drunk, or running for office. – By Shirley MacLaine
Keep love in your heart. A life without it is like a sunless garden when the flowers are dead. – By Oscar Wilde
Kindness in words creates confidence; kindness in thinking creates profoundness; kindness in giving creates love. – By Lao Tzu
Let us always meet each other with smile, for the smile is the beginning of love. – By Mother Teresa
Life has taught us that love does not consist in gazing at each other but in looking outward together in the same direction. – By Saint-Exupery
Life is messy. Love is messier. – Catch and Release
Life is the flower for which love is the honey. – By Victor Hugo
Life without love is like a tree without blossoms or fruit. – By Khalil Gibran
Looking back, I have this to regret, that too often when I loved, I did not say so. – By David Grayson
Love begins at home, and it is not how much we do… but how much love we put in that action. – By Mother Teresa
Love built on beauty, soon as beauty, dies. – By John Donne
Love can sometimes be magic. But magic can sometimes… just be an illusion. – By Javan
Love consists in this, that two solitudes protect and touch and greet each other. – By Rainer Maria Rilke
Love cures people – both the ones who give it and the ones who receive it. – By Dr. Karl Menninger
Love does not begin and end the way we seem to think it does. Love is a battle, love is a war; love is a growing up.
Love does not consist in gazing at each other, but in looking outward together in the same direction. – By Antoine de Saint-Exupery
Love does not dominate; it cultivates. – By Johann Wolfgang von Goethe
Love doesn't make the world go round. Love is what makes the ride worthwhile. – By Franklin Jones
Love is a force more formidable than any other. It is invisible – it cannot be seen or measured, yet it is powerful enough to transform you in a moment, and offer you more joy than any material possession could. – By Barbara de Angelis
Love is a friendship set to music. – By Joseph Campbell
Love is a game that two can play and both win. – By Eva Gabor
Love is a smoke made with the fume of sighs. – By William Shakespeare
Love is always bestowed as a gift – freely, willingly and without expectation. We don't love to be loved; we love to love. – By Leo Buscaglia
Love is an irresistible desire to be irresistibly desired. – By Robert Frost
Love is being stupid together. – By Paul Valery
Love is blind, but friendship closes its eyes. – By unknown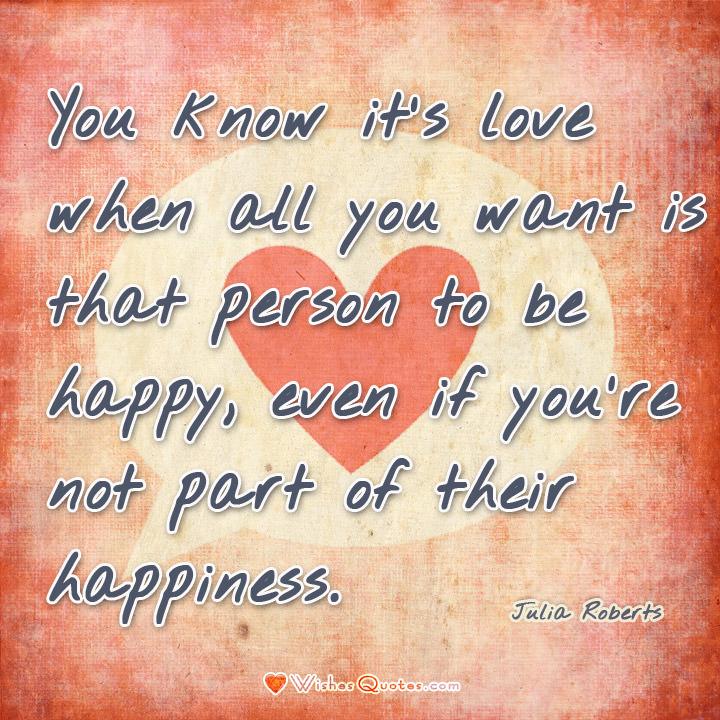 Love is but the discovery of ourselves in others, and the delight in the recognition. – By Alexander Smith
Love is composed of a single soul inhabiting two bodies. – By Aristotle
Love is friendship set on fire. – By Jeremy Taylor
Love is life. And if you miss love, you miss life. – By Leo Buscaglia
Love is like a friendship caught on fire. In the beginning a flame, very pretty, often hot and fierce, but still only light and flickering. As love grows older, our hearts mature and our love becomes as coals, deep-burning and unquenchable. – By Bruce Lee
Love is like war: easy to begin but very hard to stop. – By H. L. Mencken
Love is now, is always. All that is missing is the coup de grace — which is called passion. – By Clarice Lispector
Love is of all passions the strongest, for it attacks simultaneously the head, the heart and the senses. – By Lao Tzu
Love is that condition in which the happiness of another person is essential to your own. – By Robert Heinlein
Love is the beauty of the soul. – By Saint Augustine
Love is the delusion that one woman differs from another. – By H. L. Mencken
Love is the flower you've got to let grow. – By John Lennon
Love is the triumph of imagination over intelligence. – By H. L. Mencken
Love isn't something you find. Love is something that finds you. – By Loretta Young
Love knows not distance; it hath no continent; its eyes are for the stars. – By Gilbert Parker
Love makes your soul crawl out from its hiding place. – By Zora Neale Hurston
Love me when I least deserve it, because that's when I really need it. – By Swedish Proverb
Love yourself first and everything else falls into line. You really have to love yourself to get anything done in this world. – By Lucille Ball
Nobody has ever measured, even poets, how much a heart can hold. – By Zelda Fitzgerald
Once the realization is accepted that even between the closest human beings infinite distances continue, a wonderful living side by side can grow, if they succeed in loving the distance between them which makes it possible for each to see the other whole against the sky. – By Rainer Maria Rilke
One is loved because one is loved. No reason is needed for loving. – By Paulo Coelho
One love, one heart, one destiny. – By Bob Marley
One of the hardest things in life is having words in your heart that you can't utter. – By James Earl Jones
Only do what your heart tells you. – By Princess Diana
Other men it is said have seen angels, but I have seen thee and thou art enough. – By George Moore
Paradise is always where love dwells. – By Jean Paul Richter
People will forget what you said. People will forget what you did. But people will never forget how you made them feel. – By Maya Angelou
So much of what we know of love we learn at home. – unknown
So much of what we know of love we learn at home. – unknown
Someday, after mastering the winds, the waves, the tides and gravity, we shall harness for God the energies of love, and then, for a second time in the history of the world, man will have discovered fire. – By Pierre Teilhard de Chardin
Sometimes the heart sees what is invisible to the eye. – By H. Jackson Brown, Jr.
Sympathy constitutes friendship; but in love there is a sort of antipathy, or opposing passion. Each strives to be the other, and both together make up one whole. – By Samuel Taylor Coleridge
Tell me who admires you and loves you, and I will tell you who you are. – By Antoine de Saint-Exupery
Tell me whom you love and I will tell you who you are. – By Houssaye
The best and most beautiful things in this world cannot be seen or even heard, but must be felt with the heart. – By Helen Keller
The best portion of a good man's life is his little, nameless, unremembered acts of kindness and of love. – By William Wordsworth
The best proof of love is trust. – By Joyce Brothers
The best thing to hold onto in life is each other. – By Audrey Hepburn
The giving of love is an education in itself. – By Eleanor Roosevelt
The greatest happiness of life is the conviction that we are loved; loved for ourselves, or rather, loved in spite of ourselves. – By Victor Hugo
The heart has no wrinkles. – By Marie de Sevigne
The hours I spend with you I look upon as sort of a perfumed garden, a dim twilight, and a fountain singing to it. You and you alone make me feel that I am alive. Other men it is said have seen angels, but I have seen thee and thou art enough. – By George Edward Moore
The hunger for love is much more difficult to remove than the hunger for bread. – By Mother Teresa
The madness of love is the greatest of heaven's blessings. – By Plato
The moment you have in your heart this extraordinary thing called love and feel the depth, the delight, the ecstasy of it, you will discover that for you the world is transformed. – By Jiddu Krishnamurti
The most precious gift we can offer anyone is our attention. When mindfulness embraces those we love, they will bloom like flowers. – By Thich Nhat Hanh
The one thing we can never get enough of is love. And the one thing we never give enough is love. – By Henry Miller
The richest love is that which submits to the arbitration of time. – By Lawrence Durrell
The way to love anything is to realize that it may be lost. – By Gilbert K. Chesterton
There is always some madness in love. But there is also always some reason in madness. – By Friedrich Nietzsche
There is never a time or place for true love. It happens accidentally, in a heartbeat, in a single flashing, throbbing moment. – By Sarah Dessen
There is no disguise which can hide love for long where it exists, or simulate it where it does not. – By La Rochefoucauld
There is no remedy for love but to love more. – By David Henry Thoreau
Time is too slow for those who wait, too swift for those who fear, too long for those who grieve, too short for those who rejoice, but for those who love, time is eternity. – By Henry Van Dyke
To fear love is to fear life, and those who fear life are already three parts dead. – By Bertrand Russell
To love and win is the best thing. To love and lose, the next best. – By William Makepeace Thackeray
To love another person is to see the face of God. – By Les Miserables
To love oneself is the beginning of a lifelong romance. – By Oscar Wilde
To say I love you one must first be able to say the I. – By Ayn Rand
To the world you may be just one person, but to one person you may be the world. – By Anonymous
True love is like ghosts, which everyone talks about and few have seen. – By Francois de La Rochefoucauld
True love is the need for not one single other thing. It is air. It is sustenance. It is shelter. Love is truly all you need. – By Paul Mole
We are not the same persons this year as last; nor are those we love. It is a happy chance if we, changing, continue to love a changed person. – By W. Somerset Maugham
We don't love qualities, we love persons; sometimes by reason of their defects as well as of their qualities. – By Jacques Maritain
We loved with a love that was more than love. – By Edgar Allan Poe
We perceive when love begins and when it declines by our embarrassment when alone together. – By La Bruyere
We're born alone, we live alone, we die alone. Only through our love and friendship can we create the illusion for the moment that we're not alone. – By Orson Welles
What the work really needs is more love and less paperwork. – By Pearl Bailey
What we have once enjoyed we can never lose. All that we love deeply becomes a part of us. – By Helen Keller
When we are in love we often doubt that which we most believe. – By La Rochefoucauld
Where there is love there is life. – By Mahatma Gandhi
Who ever loved that loved not at first sight? – Christopher Marlowe
Woe to the man whose heart has not learned while young to hope, to love – and to put its trust in life. – By Joseph Conrad
You don't marry someone you can live with – you marry the person who you cannot live without. – By unknown
You know you're in love when you can't fall asleep because reality is finally better than your dreams. – By Anonymous
You never lose by loving. You always lose by holding back. – By Barbara de Angelis
You will find as you look back upon your life that the moments when you have truly lived are the moments when you have done things in the spirit of love. – By Henry Drummond