50 First Love Messages for New Boyfriend or Girlfriend
50 First Love Messages, Quotes, and Sayings: When a couple has been together for many years, there is a wealth of experiences and shared emotions to draw from when being romantic. Not true for couples who just met or perhaps wish to develop a deeper relationship. Couples can be open and honest with time, sharing the most intimate feelings. Suppose one feels a need to thank you for a lovely first date or a desire to continue seeing each other. These cute words are sometimes difficult to find, guarding against an overly effusive string of sweetness. One can't be so forceful as to scare away the object of one's desire, but leaving these words unsaid could mean losing an opportunity forever. A carefully crafted short poem or amusing turn of the phrase indicates creativity and emotion, but mostly a desire to become closer. So, send that love message to your first love, using the following phrases as a guide. Who knows? This could be the start of something big.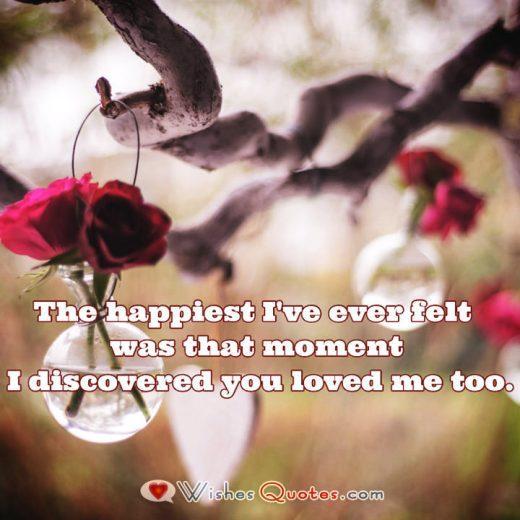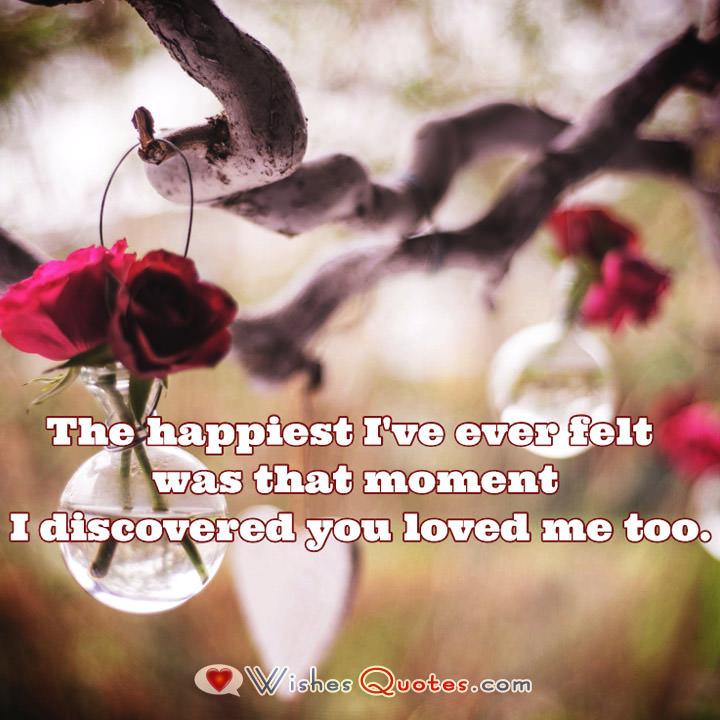 New Love, New Emotions, New Expressions of Love
I had such a great time last night. First, I never went to dinner with someone, then immediately and completely forgot what I ate.
My doctor said I needn't worry. The weakness in my knees will subside as soon as I see you again. But, clearly, we must continue to see each other for my health.
Roses are red, and violets are blue. I'm so bad at poetry — I have no clue. Would you be my girlfriend anyway?
You're beautiful, kind, and fascinating. Are you an alien who has assimilated a human form to charm a nerd like me?
I never believed that myth people refer to as "falling in love." But, now that you're my boyfriend, I'm beginning to understand.
I had a dream last night that I met the most wonderful person, had a great social evening, and woke up craving more. Okay, that last part was awake.
When I couldn't sleep, my Mom used to say, "close your eyes and pretend you're a princess." Being with you is like that dream.
Ever since we met, I've felt a spring in my step, and the world is happier. I wonder what tomorrow brings. Let's find out!
We met and went to a movie; Your shy little smile was so groovy. You're just fantastic; while I'm a bit spastic, let's go out and do it again.
They say opposites attract, but I disagree based on all the talking we do when we're together. I love the way your mind works.
I can't wait to see you again. And, not just because I haven't seen you in a few days. I say that the moment we part.
Do you feel what I feel? I've never had this rush of exhilaration, while at the same time, a feeling of serenity.
Just so you know, you are the answer to a prayer of mine. I always wanted to fall in love with someone who would become my very best friend.
There's something special about a first love. Have I told you how special you are to me?
Since becoming your boyfriend, I know that this is more than just a "crush." I think about the next time I'll see you the moment we say "goodbye."
You have a smile that can light up a room and a positive spirit that improves every space you occupy.
I want, more than anything, whatever is best for you — whether it includes me or not. That's love.
What a gift from God! I've never experienced these uplifting euphoric feelings until I met you. I'm blessed.
Ever since we met, you have given me hope that the thing called "true love" really exists. I feel it growing in me, making me feel strong and beautiful at the same time.
Being in love with you, I have got to be the luckiest girlfriend in the world. You're strong, kind, intelligent and MINE.
Granted, I'm no genius at crafting a cute love message. Suffice it to say that you are my ONLY love.
You are the perfect blend of romantic, adorable, first-love-boyfriend excellence. Let's keep this going!
I knew when we met you were going to be my only love. My inner voice said "wrap her up — I'll take her!"
I'm a numbers kind of guy, so I did a cost-benefit analysis on our love. You are TOTALLY valuable!
People always called me "jack of all trades, master of none." But I've nailed this first romance thing really well (thanks).
Lucky me, lovable you, a future together, made for two. Thanks for saying "yes" to going out with me.
Being with you makes me realize things. My prior relationship was just practice, AND I hope this feeling lasts.
If I could build the perfect image of love, creating my lifelong ubeli(partner, it would look (and feel) exactly like you.
It must be love — I'm dizzy, I can't focus at work, the sun seems brighter, and Saturday night can't arrive quickly enough.
Time is fleeting. I was worried I'd never find real love. You arrived just in time, my love.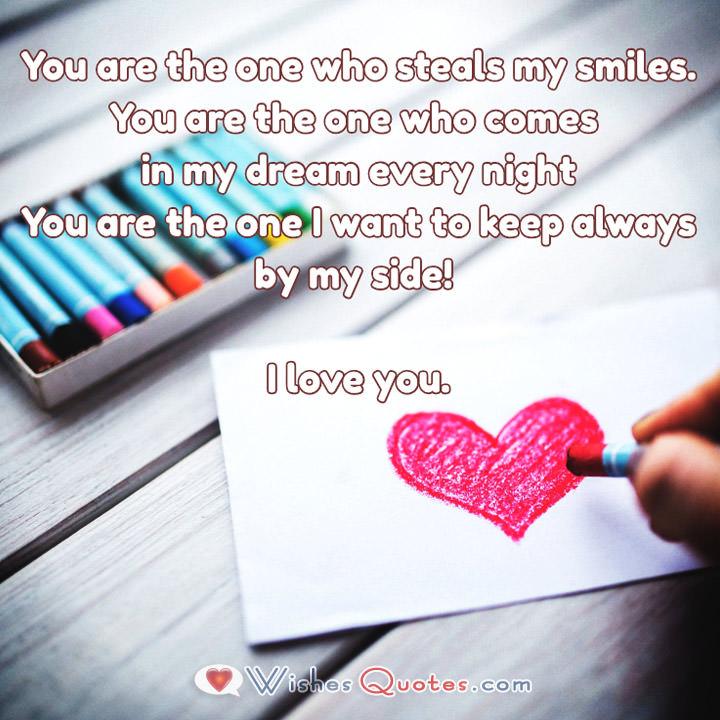 Quotes on First Love
A first love always occupies a special place. – By Lee Konitz
First love is dangerous only when it is also the last. – By Branislav Nusic
First love is only a little foolishness and a lot of curiosity. – By George Bernard Shaw
First love is powerful.  It builds us up, and it can tear us apart.  Read what these well- Byknown people had to say about first love:
First love, with its frantic haughty imagination, swings its object clear of the everyday, over the rut of living, making him all looks, silences, gestures, attitudes, a burning phrase with no context. – By Elizabeth Bowen
First romance, first love, is something so special to all of us, both emotionally and physically, that it touches our lives and enriches them forever. – By Rosemary Rogers
Girls had never been important. I'd had a girlfriend or two and had liked them a lot but it wasn't love, because my first love was tennis. – By Boris Becker
Italy, and the spring and first love all together should suffice to make the gloomiest person happy. – By Bertrand Russell
It's like trying to describe what you feel when you're standing on the rim of the Grand Canyon or remembering your first love or the birth of your child. You have to be there to really know what it's like. – By Jack Schmitt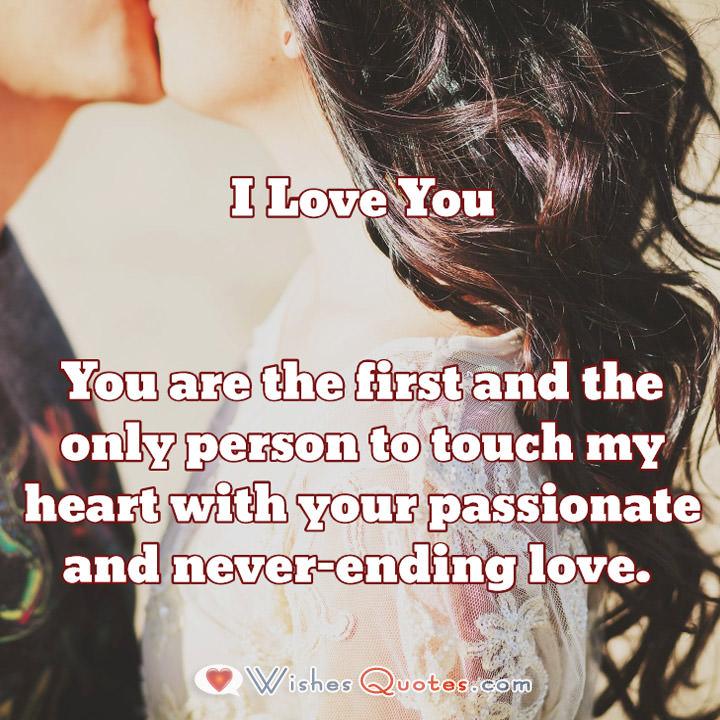 Love, at first sight, is easy to understand; it's when two people have been looking at each other for a lifetime that it becomes a miracle. – By Sam Levenson
Men always want to be a woman's, first love. That is their clumsy vanity. We, women, have a more subtle instinct about things. – By Oscar Wilde, A Woman of No Importance
There's nothing half so sweet in life as love's young dream. – By Thomas Moore
No, this trick won't work…How on earth are you ever going to explain in terms of chemistry and physics so important a biological phenomenon as first love? – By Albert Einstein
She was my first love, and I loved her as only a boy loves. – By James Weldon Johnson
The advantage of love at first sight, is that it delays a second sight. – By Natalie Clifford Barney
The first stab of love is like a sunset, a blaze of color. – By Anna Godbersen, The Luxe
The future for me is already a thing of the past /You were my first love, and you will be my last. – By Bob Dylan, "Bye & Bye"
The magic of first love is our ignorance that it can ever end. – By Benjamin Disraeli
There's no love like the first. – By Nicholas Sparks
Read Also