Sweet Good Morning Messages for Him
Browse our wonderful collection of good morning quotes and messages for your boyfriend or husband and spark your own imagination for personal morning love messages to your sweetie. There's a common misconception that women have cornered the market on the need for affectionate reassurance. Although women DO want to feel secure in their relationships, men want to feel valued, wanted and appreciated as well. When he is particularly adorable, has fixed that door handle on your car, or simply given you that knowing "look," take the time to give him a wonderful start to his morning. If a note on his pillow isn't possible, a quick text is like a loving "wink" to go with his morning coffee. Whether the relationship is new and crackling with anticipation, or long-term and devoted, his day will start on a positive note when he realizes you are thinking about him.
Good Morning, my sleeping bear. You looked like a cozy grizzly in hibernation this morning. I didn't want to leave your side.
You are my sweetest dream come true. Good morning handsome.
I'm sorry for our quarrel last night, baby. I woke up, looked at you, and realized I should be grateful for you every day.
Psssst….when we get home, ya wanna do that thing we did again? If you're smiling right now, that's a "yes."
I never experienced the feeling of actually "falling" in love – until you. I hope you have an awesome day.
I can't wait to set my eyes on you again tonight. Good morning you sexy thing!
Good Morning, Sleeping Handsome! Let's get a babysitter this weekend and do that thing we used to do (wink, wink)….
By the time you get this message, you'll probably be sipping your coffee and stewing about work. Remember, they're lucky to have you.
I woke up this morning thinking about what an admirable human being you are: honest, loving, responsible, funny. How lucky am I?!
I don't know what is more romantic – the thought of meeting you soon or the dream I had about you last night. Good morning gorgeous!
I know things at work have been a bit crazy for you lately, but I want you to know that I am constantly amazed by you. Go amaze them.
When I make my gratitude list and thank God for all my blessings, you are at the top of that list every time. Have a great day.
Even though you hog the covers and you sometimes snore like a power saw, I love waking up next to you, so it's worth it.
Just a quick "Good Morning" to remind you how much I love you and how happy I am that our paths crossed so long ago.
Hey babe, I've got two compulsions today: doing something nice for you and baking. What kind of dessert would you like?
When you get this text, think about how far we've come in our relationship. The amazing part is that we're getting even closer.
When you wake up in the morning, I'm pretty sure the devil says, "Damn – He's up!"
Good morning, Honey. I had a nightmare last night, but I woke up and there you were, so strong and great. Love you.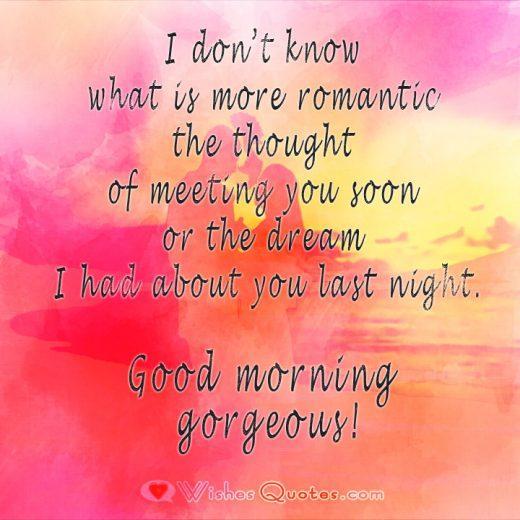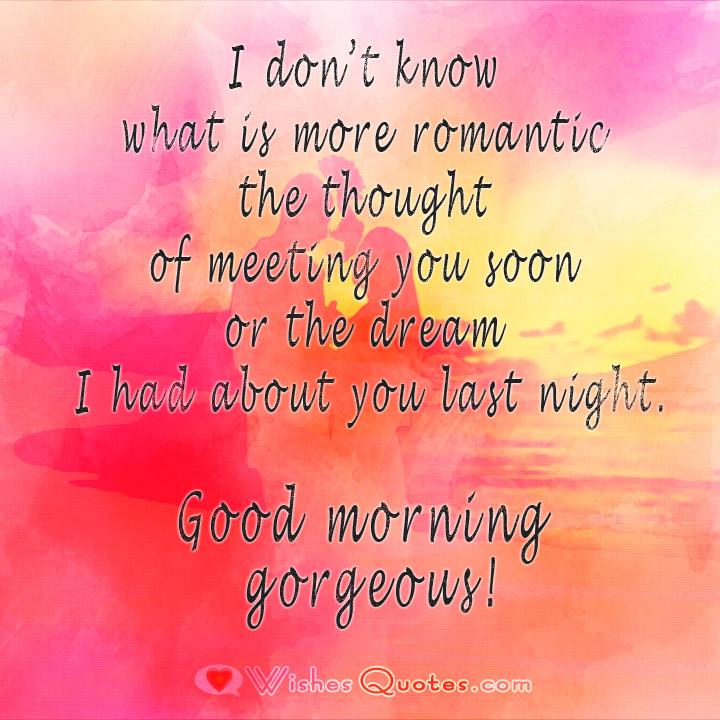 Good mornin' to the greatest buckeroo in the west! So glad I hitched my horse to your wagon.
What a good team we make! When we get off work tonight, lets talk about expanding our team, okay? Love you.
This morning, I hope you have a kick-butt, always right, show them what you're made of… kind of day!
What a way to wake up! Next to the man of my dreams… except it's real.
Thanks for holding me at night. You melt away every bad thing that might have happened during the day.
Even though I'm a cranky-pants sometimes, when you read this, know that I wake up every day grateful for you.
Good Morning. When you sip your first cup of coffee, I want you to know that I kissed the rim.
You are the hot to my tamale, the butter on my toast, the French to my fries, the…..Oh well, I ran out. I just love you!
You know that thing you do? No, that other thing. Okay, I guess you'll need another demonstration tonight– WITH visual aids.
I'm such a slow "waker-upper" and I know you're sipping your coffee and whistling right now. Have I told you how adorable that is?
Good morning, Mr. Right. Look in your glove box on your way to work, and you'll find a little surprise. Bring it with you tonight.
I like to imagine I'm a little button inside your shirt pocket, so I can be close to you all day.
I always prayed I'm meeting someone who would join me in the kind of marriage my parents had. Good morning, Mr. Right.
When you get to work, could you please call and cancel those reservations for this weekend? I want you all to myself.
Good Morning, honey. You always have this ability to make me wake up feeling loved and dare I say, beautiful. You're so good to me.