Deepest Wedding Anniversary Messages for Wife
If you are reading this, then it is probably this day of the year. You've already done better than a huge part of the male population just by remembering it! Yeah, that's right, I'm talking about your wedding anniversary. Another year has gone by, and you've done your best to make the most out of it with the woman of your dreams. But, your creativity probably isn't that great. You want to wish her something for your anniversary but you can't think of something. You want it to be romantic, fun, mysterious, but also not to be too dumb or cheesy. I know, your brain probably hurts just by trying to think about it. Don't worry though. This is why we are here for! Helping amazing husbands in a time of need. So go on, choose the perfect wish from the ones we've provided you down below!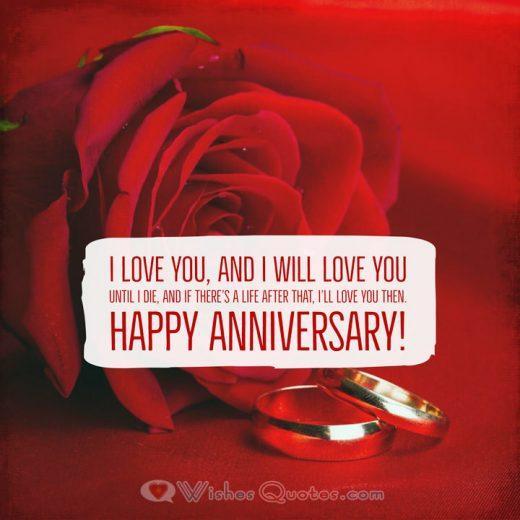 Passionate Wedding Anniversary Wishes for your Wife
Without you, there would be no (surname) family. You are the glue that holds us together. You are the love that keeps us strong. Happy XX anniversary, and may we have a hundred more to come.
People usually turn to music and poetry to find peace and inspiration. Ever since I met you, these things have become redundant. The look in your eyes and the brightness of your smile is all I need. Thank you for completing me. Happy anniversary!
I would like to use this day as an opportunity to thank you for all the times you've been there for me and for all the great times we've spent together. I wish that there are many more days like these to come. Happy anniversary!
Ever since we met, my  home has not be the place where we've been sleeping every night. My home can be everything, as long as I'm with you. Happy anniversary!
Many years have gone by since we got married. Yet, the bond we share has only gotten stronger. I can't imagine my life without you. Happy anniversary!
You are the sunshine on cloudy days. Yours is the laughter that cheers us onward. You are the heart of this family, and I love you dearly today, on our anniversary, and always.
We've been through the fire and back, and our love is stronger and deeper than it ever was. Happy Anniversary, dearest one!
I knew from the moment I saw you that we were meant to be together. Time has proven me right, and I couldn't be happier. Happy Anniversary to the best life partner in the world.
Few things in this life are certain to endure the passage of time. My love for you is one of them. I love you more each day, and I am beyond grateful to have spent the last XX years with you. Happy Anniversary.
Romantic Anniversary Wishes for Wife: Warm Quotes and Messages for Her
Each anniversary is a beginning. It's another year of adventures, sweet moments and memories to cherish for a lifetime. Happy Anniversary to us, and may we be blessed with many more.
Together, we are whole. I am fortunate to have found my soulmate and lover in you. Happy Anniversary, my dear heart!
The past years have been a wonderful journey of discovery and learning more about each other. The more I know about you, the deeper I fall in love. I look forward to decades of happiness with you. Happy Anniversary!
You are as beautiful as the first time I saw your face. I don't Know what I did to deserve you, but I am feeling so fortunate that we are together. Happy Wedding Anniversary, my dearest wife.
Of all the blessings I have been showered in this life, you are the greatest and most precious today and for all time. Happy Anniversary to my forever love.
They say nothing in this life is indispensable. I agree with one exception: You are most important and utterly irreplaceable to me. Thank you for XX golden years.
You are the gift of gifts, my love and my everything. Happy Anniversary, dearest one!
I'm your number one fan, and I'll always have your back as you have mine. Thank you for these wonderful years together, my sweet wife.
Life's greatest honor is to have a brilliant, loving and supportive partner. I have found that in you. Here's to more years of fun, laughter and deep love. Happy Anniversary.
Heartfelt Anniversary Quotes for your Wife
Even on the times we are separated, just the thought of your smile makes my day. Never before have I met a person whose existence alone can brighten up my day. Thank you for being in my life, I love you. Happy anniversary!
If any normal person had to go through what you are dealing with everyday due to me and the kids, they would have snapped. Yet, you have evolved into a superwife, and most importantly, a supermom. I admire you for your courage and passion in raising our children to become amazing people one day. That is why I am so certain you are, and always will be, the love of my life. Happy anniversary!
Happy Anniversary to the queen of my kingdom. You own me: heart, body, and soul.
I wake up every morning to your beauty and your golden heart. I am a winner because I have you. Happy Anniversary to my partner in everything.
In the annals of great love stories, ours is a headliner. I am so happy to be with you on our anniversary and always.
You inspire me. You enrich me. You complete me, my darling. Happy Anniversary!
Every time we kiss, I fall in love with you all over again. I am so deeply, madly and crazily in love with you after XX years. I wish you a lifetime of happiness spent with me on our anniversary and forever.
You are my sunshine and the moon that keeps my nightmares at bay. You are my heart. Happy Anniversary, sweetheart!
You love me in spite of my faults and foibles, and I am forever grateful. I hope you enjoy all the surprises I have for you on our anniversary.
You are my happiness. Thank you for everything you do for us. Happy Anniversary.
You have my love, faith and loyalty yesterday, today and for all the tomorrows we have together. Happy Anniversary to my one and only.