Valentine's Day Messages for Her
She is amazing, beautiful and captivating. She makes you look forward to each new day that you spend together. She is constantly on your mind, and not a moment goes by that you want to be apart. She holds the keys to your heart, and she deserves to know it. Valentine's Day is the perfect time to pour all of your love into your sweetheart, yet flowers, candy and trinkets may just not be enough to convey the meaning she has brought to your world. This is because the special woman in your life needs to hear your love put into words, no matter how busy you are. Fortunately, you can still pull off a charming holiday gesture by sending a sweet sentiment. We know that every couple has a unique love story, and these romantic Valentine's messages are designed just for her. Whether you send it in an old-fashioned letter or shoot off a quick text, your sweet gesture will make her heart race with joy knowing that she is the woman that you adore.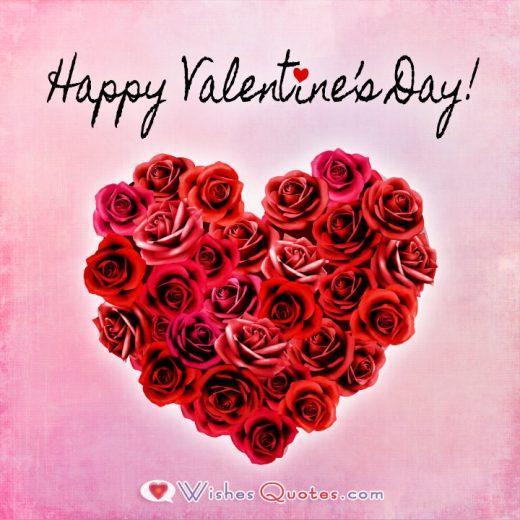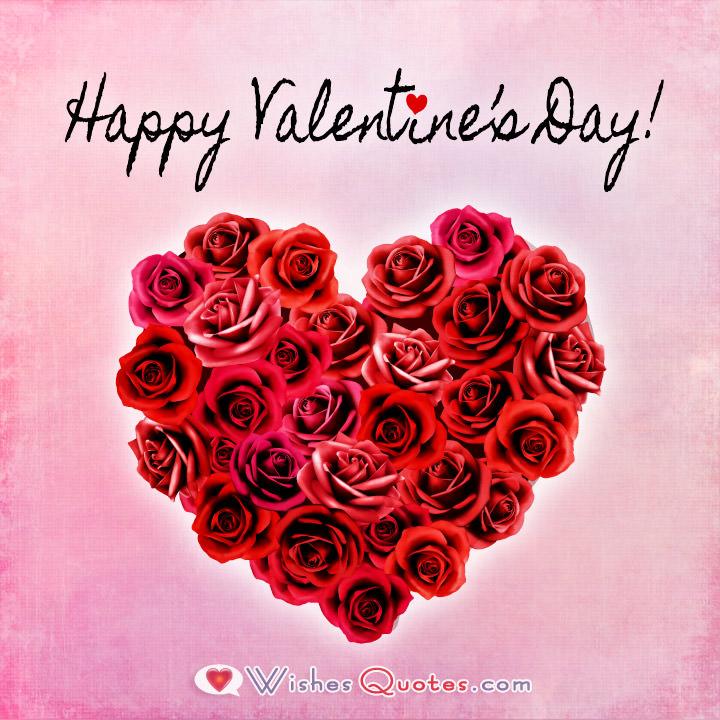 What to write in a Valentine's Day card for her
I once thought that my life was perfect. Then, you showed up and now I am certain. I love you and look forward to spending our lives together in perfect harmony!
My love, you are the sweetest dreams I ever had, and our time apart is the darkest part of my day. Can't wait to see you again!
Not everyone is fortunate enough to find true love. I am a lucky one because I am with you, my Valentine.
With you, I feel free to completely be myself. This Valentine's Day I want to give myself to you, mind, body, and heart. I love you.
Finding a love like ours doesn't happen to everyone. I feel so blessed to have found the one person who always puts a smile on my face and a spring in my step. Happy Valentine's Day to my One True Love!
Every day, we add a page to our own fairy tale. This Valentine's Day, let's write a whole chapter together. I love you. Happy Valentine's Day.
Happy Valentine's Day! Guess what…I broke all of my video games! Okay, I just put them away, but today I am all yours. What adventures do you want to enjoy?
My friends were right. They said I would one day fall in love and settle down. I didn't believe them until I met you. Sweetheart, you have made me a better man. Thank you!
You are my best friend, my lover and my favorite confidante. Now, I hope you'll let me be your Valentine. I love you.
If I told you my head hurt, you would do something to soothe it. If I said you my heart was broken, you would drop everything to make it whole again. You are my gift from heaven, and I am so lucky to have you. I love you most, my perfect Valentine!
You are my light at the end of the tunnel and my lucky treasure. Life just gets better ever since I met you.
We might be separated this Valentine's Day but distance can never change my love for you. Thousands of kisses from many miles away.
Love is like playing an instrument. First, you must go by the rules. Then, you must let go of the rules and play from the heart. Love you so much.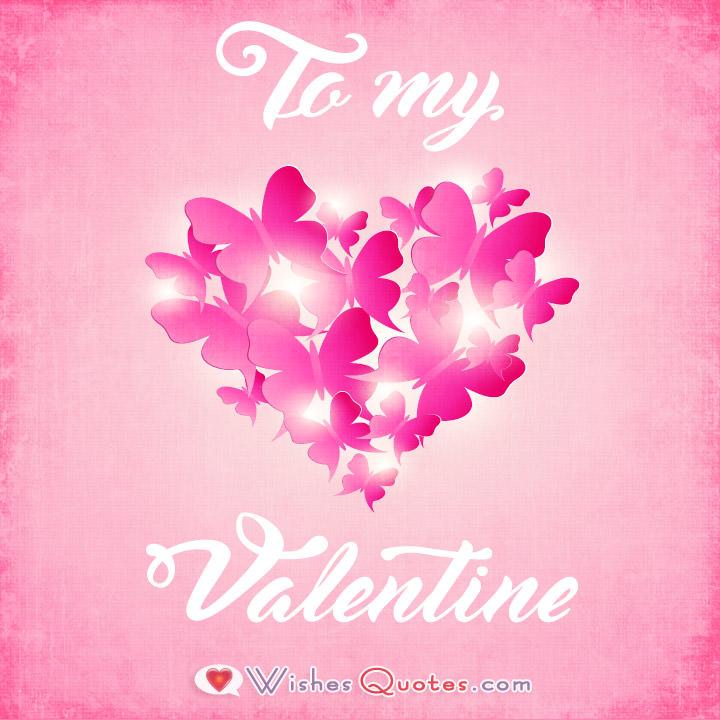 If I had to, I would spend an eternity waiting on you. You are so amazing that it would be worth the wait.
I am grateful for your love this Valentine's Day and every day for the rest of our lives.
The day you agreed to be mine was our own private Valentine's Day. Today, we celebrate our love with the whole world. Happy Valentine's, dearest one.
40 Cute Love Quotes For Her
If I had bought you a dozen roses, each one would be jealous of your beauty. So I saved them the pain and wrote you these words instead. You are captivating.
I love you from the bottom of my heart, Valentine's Day or not.
Since I fell I met you, I have found the courage to love deeper than I ever thought possible.
Finding you was like finding a treasure, Our love brings me such joy and pleasure! Happy Valentine's Day, my darling!
Our love is more than just a romantic story. It's got to be science fiction since no one on Earth could dream someone as perfect as you up.
If our souls could speak, they would share the same thoughts. Our love truly does make the world go round.
Our love reminds me that no matter how many thorns may stick themselves in our hearts, there is always a beautiful rose to ease the pain. I love how we are always there for each other through thick and thin. Our love heals all.
I've always been known as the tough guy, and I know I don't always have the right words to say. But I positively melt when I am in your presence.
Happy Valentine's to the sweetest person this side of the equator.
One morning, I woke up with a spark in my eyes and fire in my heart. Do you know why? It's because I'd found you.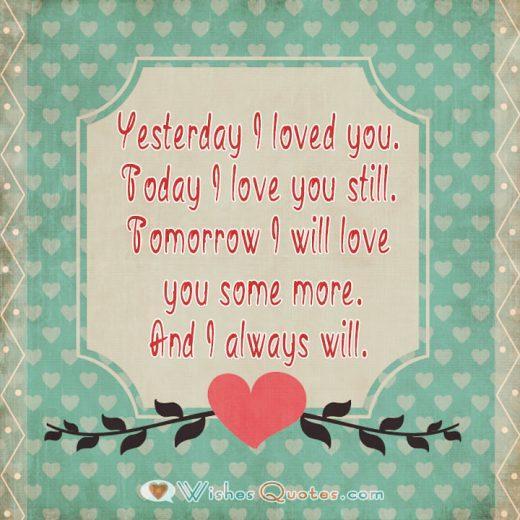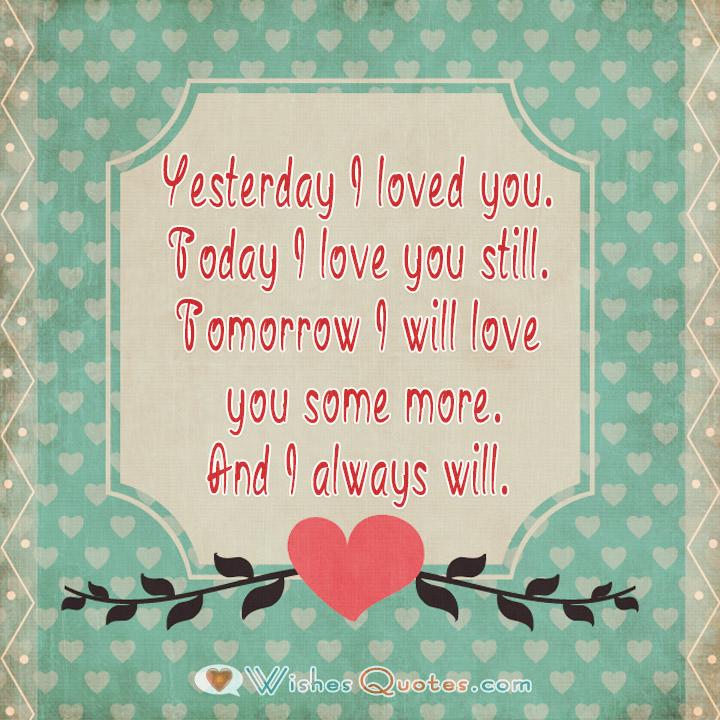 To watch your dreams come true and walk around is something to behold. You are like looking at an image straight from my wildest dreams.
Yesterday I loved you.
Today I love you still.
Tomorrow I will love you some more.
And I always will.
I have a secret. I fell in love with someone yesterday. In fact, I keep falling in love every day, and each time it is with you.
Just the fact that I remember Valentine's Day speaks volumes about the positive change you've brought into my life. Here's betting I remember your birthday, too! You're the best!
It still seems like magic every time I picture the day we met. I'm not certain how I got so lucky, but I am so glad that Cupid hit his mark.
A thousand hearts would never be enough to carry all the love I have for you.
Whether you are heading out to jog in yoga pants or dressed up in a killer dress, you are always the prettiest girl I've ever laid eyes on. You amaze me.
I thought about planning a special Valentine's date, but then I remembered I'd rather have you all to myself. Here's to an evening in that is full of romance.
Have we really celebrated this many Valentine's days? Time just flies when two hearts are soaring as one. I am looking forward to many more.